UPDATE (11/1): WE WILL BE WATCHING THE GAME AT ARENA SPORTS BAR AT 203 E WASHINGTON AT 3:30PM, NOT SCOTT'S APARTMENT.
During the current Jeff Tedford era, the matchup against the Oregon Ducks has always produced exciting games. This year will likely be no different, as both our Golden Bears and the Oregon Ducks are still vying for a Pac-10 championship. Also, besides all the hard hitting, running, and catching an awkwardly shaped leather ball, we get to see a male model fashion show sponsored by Uncle Phil Knight.
Work it boys!
It is also worthwhile to mention the ever so talented Oregon Dance team, who gets my vote for best cheerleading unit in the country.
Your pirouettes are so excellent that I cannot help but root for your Oregon Ducks!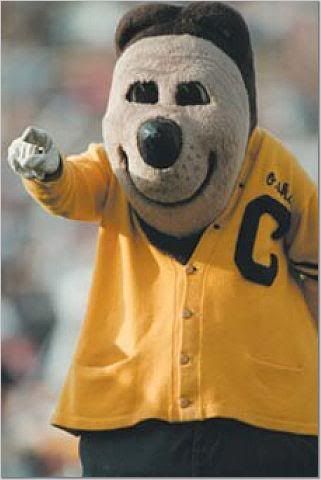 But my heart still lays with Oski and his sexy yellow sweather, recessed eyes, and goofy walk. Some come join the California Alumni Association of Michigan in our fifth viewing party of the year. Here are the details:
Where:
Arena Sports Bar
203 E Washington St
Ann Arbor, MI 48104
When:
Saturday November 1, 2008 @ 3:30 pm
In the mean time, here's some reading material to get everyone up to speed on this week's game:
Football Related
Defensive unit is stepping up to the plate
Preseason Preview by California Golden Blogs
Preview by ESPN blogger Ted Miller